We would like to take this opportunity to thank all the pullers from all over the Maritimes for the support they have shown our event over the last 35 years. During this time, we have seen our event grow to become a tradition for many families of pullers and fans alike every summer on PEI.
It has also seen some changes over the years and one of them is the increased use of campers by the pullers and fans to stay on the grounds during the event weekend. We see this as a great opportunity for the pullers to stay with their pulling vehicles while they are on the grounds.
The only problem is we have seen some congestion in our pits over the last few years as the interest has grown to not just pullers but to some of their fans as well.
Due to the limited room in our pits we have come up with a policy that we hope will make our pits as safe and as uncongested as possible for our pullers and our fans.
As of our 2016 event only campers with pulling vehicles will be permitted to stay in the main lower pit and upper pit areas. Campers of people who are fans or non-pullers will be asked to set up either in the parking area behind the west side of the track, backing their campers up to the fence. This line of parking will be held for campers only. The other area that will be held for campers is the old rink pad out in front of our grounds.
If anyone ends up getting camped in the wrong area don't worry one of our friendly staff will be along to show you where you can camp for the weekend.
Please also keep in mind we are not a campground. If you are a fan who would like to camp during our event we will have these 2 areas available but once both areas are full, we will not be able accommodate any more units on our grounds. Nearby campgrounds include the Yogi Bear campground in Borden just off the bridge and there is also a KOA in Cornwall.
We sincerely hope this doesn't inconvenience anyone as we try to make our event run as smoothly as possible while accommodating everyone we have come to enjoy seeing at our pulls.
Again thank you very much for your support over the last 35 years and we look forward to seeing all of you at our event Aug 5th and 6th 2016.
Sincerely,
Co Chair's

Jason Webster
Jamie Thompson
If you have any questions please feel free to call Jason @ 902-439-1978 or Jamie @902-393-3535
Event Details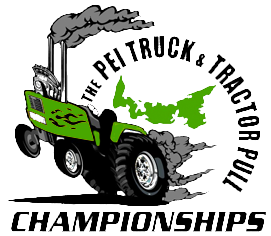 Friday, August 5th, 2022
Saturday, August 6th, 2022
Raind Date: Sunday, August 7th, 2022.
Contact Us
20560 Trans Canada Highway
Crapaud, PE, C0A 1J0